About Us
About
Become a Festival Friend
Be first in line for the world's best theatre, dance, music, visual arts, literature and more including 15% off your AF tickets
BUY MEMBERSHIP
About Us content

About Adelaide Festival
Adelaide is still the premier festival city

The Australian
For 58 years Adelaide Festival audiences have delighted in an outstanding mix of internationally acclaimed theatre productions, an eclectic array of world-class musicians, breathtaking dance pieces, renowned writers and striking visual arts displays. Enjoyed amid warm March days and starry nights, Adelaide Festival's celebration of creative excellence makes for an event of truly epic proportions.

2019 marks the third Adelaide Festival presented by Co-Artistic Directors Neil Armfield AO and Rachel Healy. Their first program for the 2017 Adelaide Festival saw all previous box office records broken and was a resounding success, repeated in 2018 with new record box office and attendance. Neil and Rachel will also direct 2020 and 2021 Adelaide Festival.

Adelaide Festival has shared Australia's best new work along with some of the world's great companies and artists including Grace Jones, Bangarra Dance Theatre, Akram Khan, Sylvie Guillem, John Zorn, Marlene Dietrich, Allen Ginsberg, James Thiérrée, Philip Glass, Pina Bausch Tanztheater Wuppertal, Isabelle Huppert, Schaubühne Berlin, Yehudi Menuhin, Isabella Rossellini, Cloud Gate Dance Theatre, Nina Simone, Jane Birkin and Malcolm McLaren.
Adelaide Festival is a member of Festivals Adelaide: representing Adelaide's ten major arts and cultural festivals.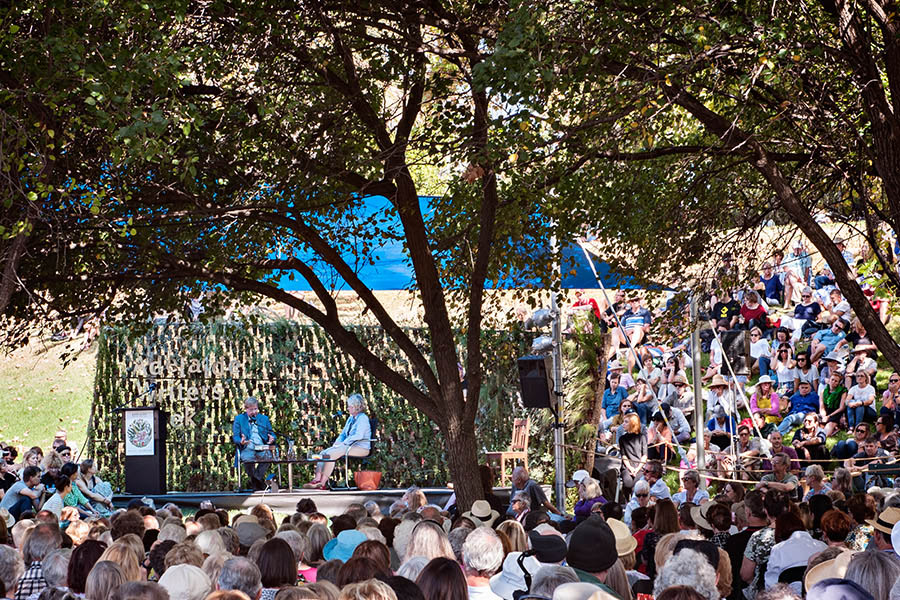 About Adelaide Writers' Week
A marvellously free six-day event in a shady spot on the edge of the River Torrens

Sydney Morning Herald

Adelaide Writers' Week is Australia's largest free literary festival, offering both writers and readers a unique opportunity to spend time sharing ideas and literary explorations in a garden setting in Adelaide's city centre. Each carefully selected program brings the world's most celebrated established and emerging writers together for a week that delights, surprises and enlightens audiences.

Each Adelaide Writers' Week includes six days of free panel sessions that are presented live in the gardens, and made available online via podcast. The program also features a series of ticketed special events throughout the year, and the popular free Kids' Weekend, which attracts hundreds of families for fun and engaging literary adventures.

Over the last 56 years, Adelaide Writers' Week has seen some of the world's greatest writers and thinkers in conversation about literature, politics, poetry, current events, biography, the short story and so much more.
To hear the Artistic Directors Welcome, click here.
To hear the Chair of Adelaide Festival's Welcome, click here.
To hear the Premier's Welcome click here.