April 02, 2020
Art in the time of Covid-19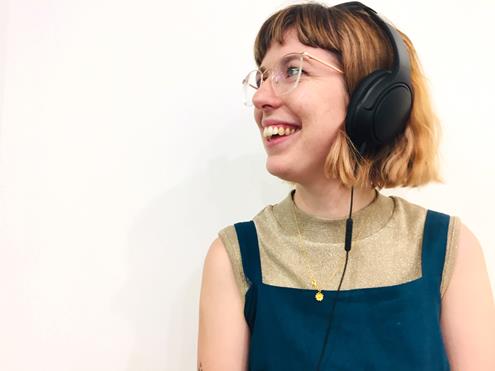 It's hard to believe that only a month ago we were celebrating our 60th Anniversary with you (you can watch our little wrap video here). How the world has changed.  
In difficult times, we believe that the arts can both inspire and strengthen our community. Now more than ever we all need art to give us comfort, hope and connection. And while we can't come together in person right now to enjoy these uplifting experiences, there are still many ways of accessing, enjoying and interacting with art.
We want to do our little part to spread joy, even from afar, directly to your safe spaces. Read on for some ideas from us to you.
GET BEHIND THE SCENES OF THE FESTIVAL
Tune in on ABC on Tuesday 19 May at 9.30pm (or on iview until 19 June) for an insightful documentary about your favourite Festival, Getting Their Acts Together.
Narrator Annabel Crabb will take you behind the scenes to lift the curtain on the intriguing art of festival direction: follow Artistic Directors Neil Armfield and Rachel Healy as they scour the globe to find the best acts, witness as they hunt, negotiate and bicker their way to their most challenging Festival year yet.
Writers' Week Session Podcasts
Immerse yourself in the amazing range of literary minds once more by listening to one (or all!) of our AWW podcasts now online.
Read one of our Top 10 Writers' Week Books
The Book Tent top sellers of this year:
The Cut out Girl, Bart van Es
The Science of Fate, Hannah Critchlow
Greenwood, Michael Christie
Celestial Bodies, Jokha Alharthi
Disappearing Earth, Julia Phillips
Adults in the Room, Yanis Varoufakis
And the Weak Suffer What They Must?, Yanis Varoufakis
The Weekend, Charlotte Wood
Sand Talk, Tyson Yunkaporta
Superpower: Australia's Low-Carbon Opportunity, Ross Garnaut
Also, Writers' Week featured author Jess Hill has just been announced as the winner of the Stella Prize for her 'incredibly powerful' Look What You Made Me Do, result of four years of research into domestic abuse. 
Your favourite bookshop, Imprints, not only is  open for business, but their staff is happy to deliver your order directly to your door! 
Sydney Writers' Festival
Free live-stream with Malcolm Turnbull and Annabel Crabb, to celebrate the former PM's new memoir A Bigger Picture. See it live on Facebook on 27 Apr, 6.30pm ACST or after that on YouTube.
Together Remotely
AWW 2020 guest and former Director of the PEN World Voices Festival in New York Caro Llewellyn's new literary outing, hailed as a year-round, live, online literary festival with an exciting upcoming roster of guests, including Colum McCann (Apeirogon, Let the Great World Spin) and Andrew Sean Greer (Less). Note there is a small ticket fee, which helps support the authors.
Benedict Cumberbatch reads Kafka's The Metamorphosis
Need we say more? Perfect rainy afternoon (it will come...) on the couch entertainment.
There is nothing like sitting together in a concert hall listening to music being created right in front of you, but in the meantime there is:
Adelaide Symphony Orchestra Digital Concert Hall
Watch the brilliant musicians of the ASO take to the stage at Grainger Studio for some beautiful recitals including Bach, Debussy, Stravinsky and more.
HomeCasts with the Australian Chamber Orchestra
A Digital Season featuring new recordings, live streamed performances, access to archival and never-released footage. Watch the premieres live on their Facebook page, sometimes even with commentary from ACO musicians. Extensive schedule available.
Adelaide's own Australian String Quartet launched Australian Anthology - a recording and releasing project to celebrate contemporary Australian composers.
New York Philharmonic: Digital Mahler Festival
If you love Mahler as much as we do, then you are in the right place here with a huge selection of content, live-streams (view schedule), a virtual walking tour of Mahler's New York, an archival exhibit - even recipes! The Festival takes place until 30 Apr.
Live with Carnegie Hall 
Tune in for unforgettable episodes that feature some of the world's finest artists as they share behind-the-scenes stories, excerpts from past performances, and live musical moments. If you want it live, you'll have to set an alarm, but episodes stay online for a few days.
Berlin Philharmonic Digital Concert Hall
The Berlin Phil have made their extraordinary digital archive of live-recordings and movies free for everyone. Just redeem voucher code BERLINPHIL and receive free access - time to indulge!
Kate Tempest live in LondonThe award-winning artist, in collaboration with BBC, released a recorded live at the Rivoli Ballroom in south London, available for free for a limited time. Audio description and Sign Language available in the streamed version. WARNING: Contains strong language.

Monster Theatres: Art Gallery of South Australia
If you didn't have time to make it to AGSA during the Festival, head over to their website for the 2020 Adelaide Biennial Virtual Tour. It includes podcasts and videos from artists, curators and guest speakers. 
MOD - Life Interrupted
Adelaide's own Museum of Discovery is creating an online exhibition with games, communal spaces, soundscapes and more. Time to discover!
National Gallery of Victoria
Try out the amazing immersive virtual tours of the NGV: you can currently 'walk' through their blockbuster (and normally ticketed) exhibitions Keith Haring | Jean Michel Basquiat: Crossing Lines (and listen to the audio guide at the same time) and Kaws: Companionship in the Age of Loneliness.
Queensland Art Gallery
We have really enjoyed watching these, almost meditative, beautiful timelapses of large scale exhibitions being built.
10 of the worlds best virtual museum and art gallery tours - A guide from The Guardian, including The Guggenheim, Bilbao, The British Museum, Getty Museum in LA, and many more.
Opera Australia - Staging an opera
Ever wondered just how much work goes into an opera production?
How does it all begin? Who does it involve? In five short videos, you are taken backstage and back in time to see how a production takes shape, following a new production of The Pearlfishers.
Komische Oper Berlin
Enjoy videos of several wonderful productions and definitely don't miss AF former director Barry Kosky's La bohème available from 19 Apr.
National Theatre At Home
The UK's NT is making some performances available for you to watch at home while they are closed. These usually come to cinemas around the world and are brilliantly captured for an on-screen experience. Highly recommended!
On the Boards TV
OtB Theatre was one of the first contemporary performance organisations to begin filming works by top caliber artists with multiple high-definition cameras, collaboratively editing the films with the artists, and delivering feature-length performance films to audiences around the globe. Use promo code ARTATHOME20 to access amazing performances for free through to the end of April.
Australian Ballet Digital Season
Throughout its history, ballet has always offered a most wonderful escape from troubled times. The Australian Ballet's next full-length production will be Alexei Ratmansky's beautiful Cinderella, available to watch from Fri 17 Apr.
Bangarra Dance Theatre: Bennelong
Acclaimed worldwide for its authentic storytelling, distinctive voice and moving performances Bangarra's Bennelong was part of the 2018 Adelaide Festival. Immerse yourself in the full performance.
ADAPT by Australian Dance Theatre
ADT's special online-only season for 2020. Every second weekend ADT will stream one of Garry Stewart's works world-wide for 48 hours for free. ADAPT launches on Mon 20 April, with the Helpmann Award-winning The Beginning of Nature streaming on Fri 1 May from 12pm ACST. More info to come on their website.
Hamburg Ballet's Beethoven Project
Choreographer John Neumeier has always been deeply moved by the powerful, striking music of Ludwig van Beethoven. The Beethoven Project premiered only last year and is "a form of symphonic ballet shaped by the inspiration of Beethoven's music and my subjective choreographic response." Stunning! Available from the Ballet's Videos on Demand from 30 Apr. 
Windmill at Home
Windmill have created a new digital platform that hopes to bring a little bit of Windmill joy into isolation through digital stories, interactive experiences and some seriously great Grug-content. Wonderful! 
Art class with Ben Quilty
The renowned Australian painter, star of the 2019 Adelaide Festival and Adelaide Writers' Week, is in isolation in his home studio with his charming 11-year-old daughter, Livvy. They will take you through the basics of drawing a face. Just a face.
And maybe they will make you smile, too?
Star Trek star, Sir Patrick Stewart has taken to reading a Shakespearean sonnet a day on Twitter. With 154 sonnets, that should keep him going for a few months.
While in isolation, tenor Tomas Dalton and baritone Tom Hamilton performed an intimate rendition of "I Still Call Australia" to their apartment neighbours.
Similarly, The Rotterdam Philharmonic players joined forces from their lounge rooms to perform this joyful "Ode to Joy"
Our own Adelaide Symphony Orchestra's Dean Newcomb recorded this beautiful Mozart Clarinet Concerto Adagio for a cloned clarinettist
"I've been self-isolating for six days and this broke me. I am sobbing. Bravo everyone." We are sobbing, too - watch the couch choir's rendition of "Close to You" and try to keep a dry eye.
And while we're at it, Google Arts & Culture is always worth a look, heaps of fun stuff to read and do with new additions all the time. 
Other News