A Festival for the Future
About
A Festival for the Future content
Adelaide Festival is certified carbon neutral
As an iconic event for our community, we want Adelaide Festival to be an exemplar of environmental responsibility and know that we can make a vital and significant contribution to a future that we want our children to inherit.
We are committed to reducing our impact on the environment and we are proud to become the first major arts festival in Australia to be certified carbon neutral.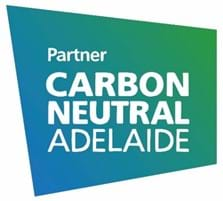 We will consistently measure and reduce our impacts on the environment, while offsetting the remaining carbon emissions involved in presenting our arts festival.
We are working with our staff, artists, suppliers, crew, volunteers, donors, sponsors and audience to ensure that sustainability is a key focus in everything we do.
The Festival is proud to be a part of a city that is leading the transition to a low carbon economy, and feels it is important to be part of the community leading climate change action to help our environment and our economy. This year, we are proud to be a Carbon Neutral Adelaide ambassador and are committed to our community's shared aspiration to make the City of Adelaide one of the world's first carbon neutral cities.
GENEROUSLY SUPPORTED BY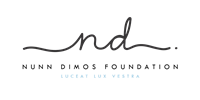 What can you do to support our sustainability?
We've created the graphic below to describe some of the ways our audience members and supporters can help the Adelaide Festival to be more sustainable.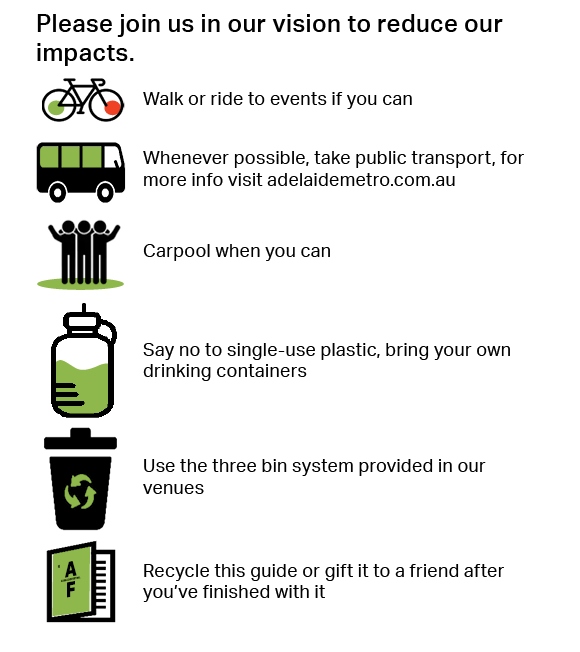 Latest news
AF22: Climate Crisis & the Arts
Climate Crisis & the Arts is a new one-day event in the 2022 Adelaide Festival, featuring conversations with leading voices from the arts and sciences. This event will take place at the Pioneer Women's Memorial Garden on Friday 11 March, 2022.
Read about Climate Crisis & the Arts
Announcing the AF22 Green Guide
In 2022, Adelaide Festival teamed up with Green Music Australia to create the Adelaide Festival Green Guide. This guide will be distributed to artists, contractors and new staff to assist them in understanding the Festival's commitment to emission reductions, carbon neutrality and climate action.
BYOBottle campaign
Adelaide Festival is aiming to reduce plastic waste across operations. We're encouraging artists, contractors and staff to help us by taking part in the BYOBottle campaign and drinking from reusable bottles for our 2022 events. 
AF tree planting excursion
Adelaide Festival staff members participated in a tree planting project at Wirilda Conservation Retreat in November 2021. Read the update here.