The Literati
Support
The Literati content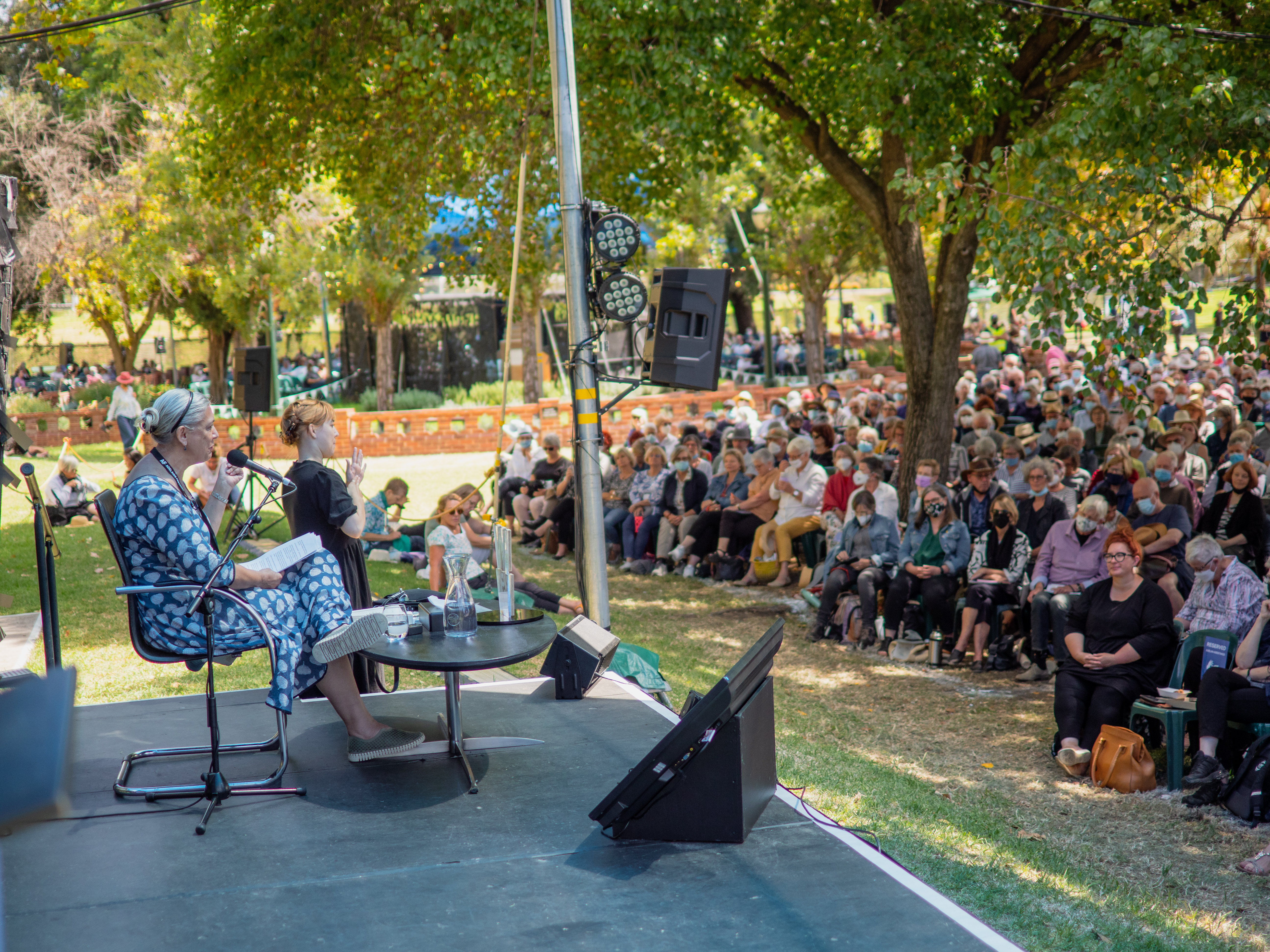 Thank you for an incredible Adelaide Writer's Week this year. Your selection of authors and books at the event this year was nothing short of amazing. Thank you again for an incredible Adelaide Writer's Week. I'm already eager for the next Writer's Week and all of the stories I'm bound to discover there.

Audience feedback
We invite you to join The Literati, a group of like-minded supporters who are passionate about keeping this iconic event vibrant and accessible to all. Together we can build on the more than sixty-year legacy of Adelaide Writers' Week, for this and future generations of book lovers. Please read on for more information about The Literati.
Thank you so much for again putting on a brilliant event. We are so lucky to have free access to such a wonderful array of talks in a truly beautiful garden. This is my favourite event to attend out of the whole year and I absolutely love it

Audience feedback
Adelaide Writers' Week is regarded as one of the world's most significant literary festivals and a highlight of the Adelaide Festival. The event is held in the historic Pioneer Women's Memorial Garden, and entry to the Garden is free. Adelaide Writers' Week aims to provide a rich, cultural experience that appeals to diverse audiences. The six day event of public readings, talks and discussions includes writers from around Australia and the world. It attracts large attendances each year and is livestreamed to community centres, libraries, aged care homes and schools across Australia. Adelaide Writers' Week is committed to young readers with a Kids' Day and a day for Middle Grade & Young Adults over the opening weekend.
Join The Literati
To ensure Adelaide Writers' Week can remain a much-loved and accessible event as part of Adelaide Festival, we ask for your help to underwrite the costs of staging Adelaide Writers' Week – we need your support:
Members of The Literati are invited to key Adelaide Festival and Adelaide Writers' Week events, including access to The Literati Book Club.
$10,000+ Will help bring international authors to Adelaide Writers' Week
AWW continues to promote the best writing from around the world and present a global perspective on key issues.
$5,000 Will pay for two Australian authors to attend Adelaide Writers' Week from interstate for the entire week
The enormous audiences are open and eager to discover new authors, enabling local authors to build their existing readership and find new support.
$3,000 Will pay for a session for tween and teen readers
The popular Middle Grade & YA Program celebrates writing in all its forms, including the passionate spoken-word performance platform, Hear Me Roar.
$3,000 Will pay for a session at Kids' Day
Kids' Day sessions encourage the very youngest readers through imaginative play, improvisation, workshops and storytelling.
$2,000 Will help to keep Adelaide Writers' Week free and accessible to all
Adelaide Writers' Week is one of the few free literary festivals anywhere in the world, making it open to people of every age and background.
All donations are welcome and donors giving gifts below $2,000 will be acknowledged as Adelaide Festival Benefactors, with these donations directed towards general support of Adelaide Writers' Week.
Every contribution over $2 to The Literati is fully tax deductible.

To join the circle and support Adelaide Writers' Week with a donation, please email Hannah Bone at hbone@adelaidefestival.com.au or call 08 8216 4478 or make your Literati donation online using the link below.
____________________________________________________
From the Writers
I just wanted to send a formal thank you for inviting me to and hosting me at Writers' Week. The whole Writers' Week team were so kind and accommodating and the festival was the best I've ever been to. I couldn't have asked for a better experience for my first festival and in-person event.

Allee Richards Small Joys of Real Life

A huge thank you for the invitation to Writers' Week, for taking such good care of us all and for putting on a fabulous show.

Michelle de Kretser Scary Monsters
I loved being a part of AWW, it's a fabulous festival.

Campbell Mattinson We Were Not Men