The Literati
Support
The Literati content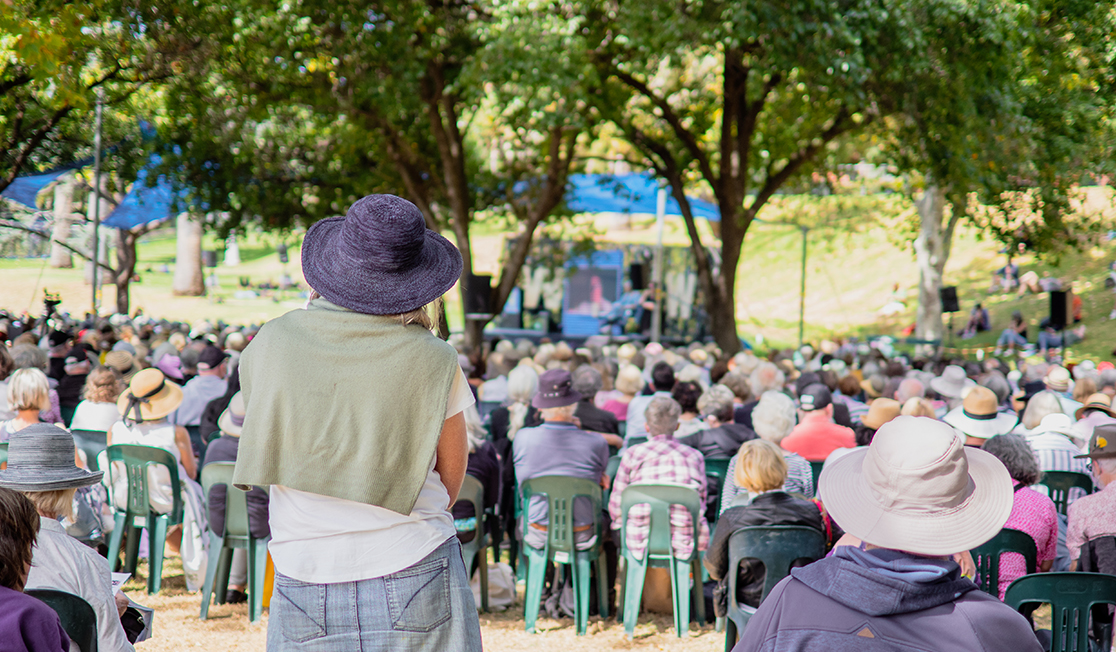 Join The Literati and play your part in presenting Adelaide Writers' Week
Adelaide Writers' Week is an inspiring event where Australian and international authors and passionate readers of all ages come together to share insights, thought-provoking conversations and indulge in all things bookish. But with reduced levels of government funding, rising costs, and a desire for constant improvement, we need your help.
We invite you to join The Literati, a group of likeminded supporters who are passionate about keeping this iconic event vibrant and accessible to all. Together we can build on the over sixty-year legacy of Adelaide Writers' Week for this and future generations of book lovers. Please read on for more information about The Literati or download a brochure here.
The Literati comes together to support Adelaide Writers' Week in four ways:
Keep It Free!
Adelaide Writers' Week is one of the few free literary festivals anywhere in the world, making it open to people of every age and background. Our wonderful Literati helps Adelaide Festival to underwrite the costs of staging Adelaide Writers' Week. Join us and help build on the unique tradition that sets Adelaide Writers' Week apart and makes it one of the most beloved events on our calendar.
I have a long history of enjoyable attendance at WW. This latest maintained the great standard under difficult circumstances. WW continues for me to inject massive intellectual stimulation in such a short period of time each year. To me it is a priceless gift.
- Robert Neil, Adelaide Writers' Week attendee

Provide funding to present an international author
Adelaide Writers' Week has welcomed hundreds of international authors to its stages, including Ben Okri, Sarah Winman, Patricia Lockwood, Alan Hollinghurst, Richard Dawkins, Lauren Groff and Max Porter. With your support we can use the latest technology to livestream international authors into the garden for Adelaide Writers' Week audiences, ensuring our program continues to promote the best writing from around the world and present a global perspective on key issues.
I don't usually finish a gig in tears, but I just have. Thank you so much for having me - it was magical. It was like looking into a happy future.
- Natalie Haynes, UK author

Support Australian Authors
The accessibility of Adelaide Writers' Week means it attracts enormous audiences annually, open and eager to discover new authors. This makes Adelaide Writers' Week a valuable platform for writers, enabling them to build their existing readership and find new support. With our on-site Book Tent, Adelaide Writers' Week boasts the highest book sales of all festivals, thereby generating much needed income for writers. Your support will help us bring interstate authors to Adelaide Writers' Week.

Thank you so much for inviting me to be part of such a very special AWW. It was sweet and surreal and just so wonderful to be there, in the midst of so many people excited about books and reading and writing. Food for the soul. I loved every moment of it. Congratulations on creating such a beautiful event!
- Ceridwen Dovey, Australian author

Encourage Young Readers
Adelaide Writers' Week is committed to young readers with Kids' Day on Saturday and a day for Middle Grade and Young Adults on Sunday. Kids' Day in The Story Tent features authors and illustrators sharing their work with children aged 2 – 12 years old and performance-based storytelling from Adelaide's own Rory Walker and Eliza Lovell as "Story Trove". The incredibly popular Middle Grade and YA Day caters for tween and teen readers and celebrates writing in all its forms, including the passionate spoken-word performance platform, Hear Me Roar.
I was absolutely thrilled by the addition of Kids/YA Days over the weekend, it opened the event to a much larger audience. Also, the spoken word and slam poetry sessions were captivating!
- Kate Tonkin, Adelaide Writers' Week attendee
____________________________________________________
Your support
To ensure Adelaide Writers' Week can remain the much-loved and accessible event it is, we need your support.
$10,000 will help bring international authors to Adelaide Writers' Week.
$5,000 will pay for two Australian authors to attend Adelaide Writers' Week from interstate for the entire week.
$2,000 will pay for a session at Kids' Day or Middle Grade & YA Day, including the popular Hear Me Roar! and Story Trove sessions. 
$1,000 will help to keep Adelaide Writers' Week free and accessible to all.
Every contribution over $2 to The Literati is fully tax deductible.

To join the circle and support Adelaide Writers' Week with a donation, please contact Amanda Wheeler, Head of Development, via email at philanthropy@adelaidefestival.com.au or on 08 8216 4444 or make your Literati donation online using the link below.