February 07, 2021
Adelaide Writers' Week FAQ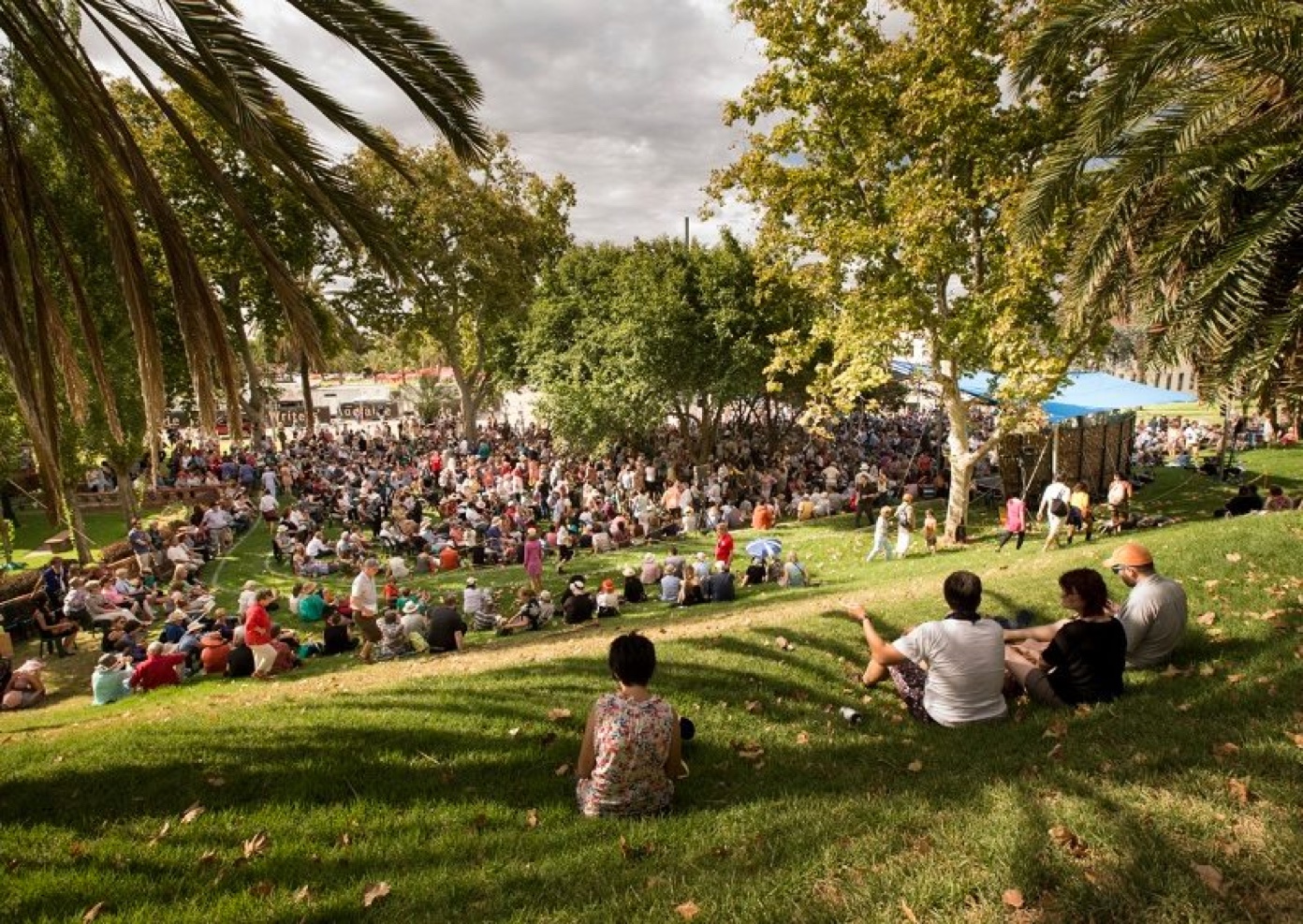 IF YOU ARE PLANNING TO JOIN US IN PERSON, AT THE GARDEN
The safety and well-being of writers, guest and audiences is foremost in our planning.
Adelaide Writers' Week continues to take advise from  SA Health and encourages everyone to follow COVID safe guidelines.
If you are seeking information on COVID-19 visit health.gov.au or call the Australian Government Department of Health Coronavirus Information Line on 1800 020 080. This information line operates 24 hours a day, seven days a week.
- Adelaide Writers' Week will be operating under a COVID Management and COVID Safe plan approved by the SA Department of Health and

has a comprehensive Covid-19 Risk Assessment and Action Plan for prevention, preparedness, response, and recovery

- The Pioneer Women's Memorial Garden will be fenced to monitor numbers and facilitate contract tracing.
- You will need to undertake a COVID-safe Check-in on arrival at the Garden each day. This may cause delays at peak times. Download the mySA GOV app before you arrive. If you don't have a smartphone, Writers' Week staff can register you manually.
- COVID Marshals will be present at all times.
- All staff members and volunteers have undertaken COVID-safe training.
- We strongly recommend all purchases in the Book Tent and at Let Them Eat catering are made cashless, paying by card.
- Hand sanitising stations will be available throughout the site.
- We have increased daily cleaning activities across the site, with door handles, surfaces and high-touch areas cleaned and sanitised frequently.
How will the seating be arranged?
SA Health guidelines inform all seating arrangements.
The East and West Stages will have checkerboard seating. You will need to leave an empty seat between you and the next person. Please do not move the seats.
If you would prefer to sit on the grassy banks of the Pioneer Women's Memorial Garden, feel free to bring a picnic rug.
Does Adelaide Writers' Week have a capacity?
Yes. SA Health has provided Adelaide Writers' Week with a maximum attendee capacity based on our total venue area in square metres. This maximum number of attendees at capacity is similar to our normal attendances but there may be instances at peak times, such as Saturday and Sunday, when people may need to wait for someone to leave the site in order to be allowed in. Social distanced queuing will be managed by Covid Marshals.
As always being COVID safe is a shared responsibility, if you would prefer, please bring your own chair or rug so that you can sit away from the checkerboard seating in front of the stage.
Where are the entrances to Adelaide Writers' Week?
There are three entrances. King William Road, Victoria Drive (opposite Jolly's Boathouse) and Kintore Avenue (beside the Drill Hall).
What time do the gates open?
Gates open from 8:30am every day.
Can I pre-register?
No tickets or pre-registration needed to attend Writers' Week in the Garden: only QR registration on entry. We recommend coming earlier.
Do I have to pay?
No, Writers' Week is free.
Will the Book Tent be in operation as usual this year?
The Book Tent will be in operation with a reduced person capacity in place, and a change in the layout to better manage patron flow. Covid Marshals will be at the entrances and exits to ensure capacity is not exceeded. We will do our best to make sure people can move through as quickly as possible and encourage you to support our authors by buying their books in the Book Tent.
Will authors still be signing books?
The decision to hold a book signing after their session is up to each author: Adelaide Writers' Week will facilitate book signings and coordinate queues in a safe way.
Will there still be catering on site?
Let Them Eat will be selling food and drink, as always patrons are still able to bring their own (no alcohol) to avoid the queues. We recommend you purchase in a cashless way.
The layout of the catering tent has been amended to manage queues.
Will international authors still be appearing?
International guests aren't able to be with us in person so will instead join us in the Garden via livestream on the East and West Stages for selected sessions.
____________________________
LIVE STREAMING FROM LIBRARIES AND COMMUNITY CENTRES
I haven't missed a Writers' Week in years, but am feeling uncomfortable about coming to the Garden this year, what can I do?
Writers' Week is a free community event and to be part of the community experience, there is free live streaming available at a number of venues including libraries, community centres, schools and retirement villages. Streaming takes place from Monday 1 March to Thursday 4 March inclusive for all sessions on the East Stage. More information about the streaming into libraries here
____________________________
LIVE STREAMING FROM HOME
In addition, for the first time, you can access some of our events from your own homes in our Curated Dozen. We have curated a series of twelve sessions that can be viewed online at home across the week. Tickets must be purchased in advance and are available on a Pay What You Can basis via the event page of each session, with a recommended price of $15 per event: these sessions are accessible from anywhere in the world, and available to view for 48 hours after the event. 
Ok, I'm streaming from home. How does it work?
Please ensure you have sufficient time to watch the events refunds will not be given for unwatched or unfinished events.
You will require a working device with internet access to view the Live Broadcast.  If you have a smart TV, you can mirror/cast from iPads and smartphones. 
Please note that Adelaide Writers' Week cannot issue refunds for problems related to your internet connection.
Can I stream all sessions?
No, only the 12 part of the Curated Dozen.
How do I watch the event?
First purchase your watch at home ticket from our website.

You will then be sent an order confirmation email followed by an email titled 'Your ticket to [Session Title]' with an access code and a link to watch the event. To watch the event, click the 'Watch Now' button. 
Depending on your spam settings, please note the email containing the access code can end up in your junk, updates or promotions folders. If it's still not there 30 minutes after you bought the ticket, email enquiries@tikstream.com and the support team will forward your ticket to you again.
How long do I have to watch the event?
The video link will be active for 48hrs from the date of the event. You can either watch it live as the event is happening, or watch the event after it has taken place. 
During a film's viewing window, you will be able to rewind, forward through, pause or exit and restart the film. Please note that undertaking any of these actions will not extend the viewing window.
How many devices can I watch the event on?
One ticket = one activation code. This code can only be used on one device (device = computer, tablet or mobile). 

If you purchase two tickets you will receive two unique activation codes. These must be used on separate devices. 
Will any events sell out or is there a capacity?
Tickets are generous for the Curated Dozen events, but not unlimited. If you don't want to miss out we recommend buying as soon as possible. 
What is the ticket price?
All of our Curated Dozen events are Pay What You Can. Our suggested price is $15 but you can choose to pay any amount you'd like – from $0. 
Why should I pay when I can see it for free in the garden?
You can see Adelaide Writers' Week for free in the garden, you can watch selected sessions for free in your local library, you can listen to the sessions as podcasts when they are released once the Festival has finished.
We are committed to Adelaide Writers' Week being a free event but with increasing costs for the infrastructure of Adelaide Writers' Week, reduced federal government funding, a modest contribution from book sales, a grateful contribution from philanthropy and foreign governments, the majority (61%) of the funding of Writers' Week is underwritten by the Festival.
Many people in the audience have the choice to attend in the garden or at a library: however, if you can't travel to Adelaide, are isolating/quarantining, or simply can't take time during the day to be there, this new service allows you to experience Writers' Week from home, and catch up on selected sessions for 48hrs after they happened in the Garden: we simply ask, if you can pay something for the convenience of streaming any of the Curated Dozen into your home and help offset costs, please do.
TECHNICAL TROUBLESHOOTING
Access page tells me my code is invalid/expired, but I haven't used it yet.
This could be a simple copy-paste issue. Please double-check the code you are entering is exactly the same as the code in your email ticket. The code is also case-sensitive. If you're still having issues, please contact enquiries@tikstream.com.
Also please note, we use cookies to recognise your browser once you've unlocked content using your Access Code. If you tend to browse in Private/Incognito browsers, we will not be able to recognise your browser after you use your code, and as such you may have issues with re-using your code on the same device you unlocked the content with. For peace of mind, please do not watch Tikstream content in Private/Incognito browsers.
Can I cast the stream to my tv?
Yes! Though different devices will need specific solutions.
CHROMECAST
Desktops/laptops running the Chrome browser will be able to cast to your television via Chromecast. Once you've accessed the Watch page, go to View > Cast in your Chrome browser menu. You should then be able to select the connected Chromecast device and stream the page to your television. You can also click the fullscreen icon on the video to run it in fullscreen on your television. (Please note: Your Chromecast device will need to be turned on and on the same wi-fi signal as your browser)
Android mobile devices can cast the browser window to a television using a Chromecast and the Google Home App.
iOS mobile devices (iPhones and iPads) cannot cast using a Chromecast.
APPLE TV
The easiest way to cast from a Mac or iOS device via an Apple TV is to mirror the device's screen.
On your Mac, click the Display icon in the menu bar at the top of your screen, and select "Airplay to: Apple TV". If you don't see the Display icon, go to Apple menu > System Preferences > Displays, then select "Show mirroring options in the menu bar when available".
Please note: Your Apple TV device will need to be turned on and on the same wi-fi network as your Mac.
More information on mirroring your Mac via Apple TV can be found here: https://support.apple.com/en-au/HT204289#mirrormac
iOS devices can use Screen Mirroring from the Control Centre to cast the entire iPhone or iPad screen to your TV via Apple TV.
To open Control Centre on your device:
On iPhone X or later or iPad with iPadOS or later: Swipe down from the upper-right corner of the screen.
On iPhone 8 or earlier or iOS 11 or earlier: Swipe up from the bottom edge of the screen.
Once open, tap Screen Mirroring, and select your Apple TV.
Please note: Your Apple TV device will need to be turned on and on the same wi-fi network as your device.
More information on mirroring your iOS device via Apple TV can be found here: https://support.apple.com/en-au/HT204289#mirroriOS
I got bumped out / My connection dropped / The stream stopped
If you experience any issues with the stream, please try reloading the page. The Access Code will still work if you stay in the same browser you used it in. If you still have troubles, please email us for support. 
I can't hear the sound!
If you cannot hear the performance, please check your system settings, as well as the individual browser tab volume settings. Depending on your browser, you may need to manually unmute the content, as some browsers mute content under various circumstances. If all else fails, try refreshing your browser tab. The access code will still work if you stay in the same browser you used it in.
If you still have troubles, please email us for support. 
Other News