February 13, 2023
Create4Adelaide officially launches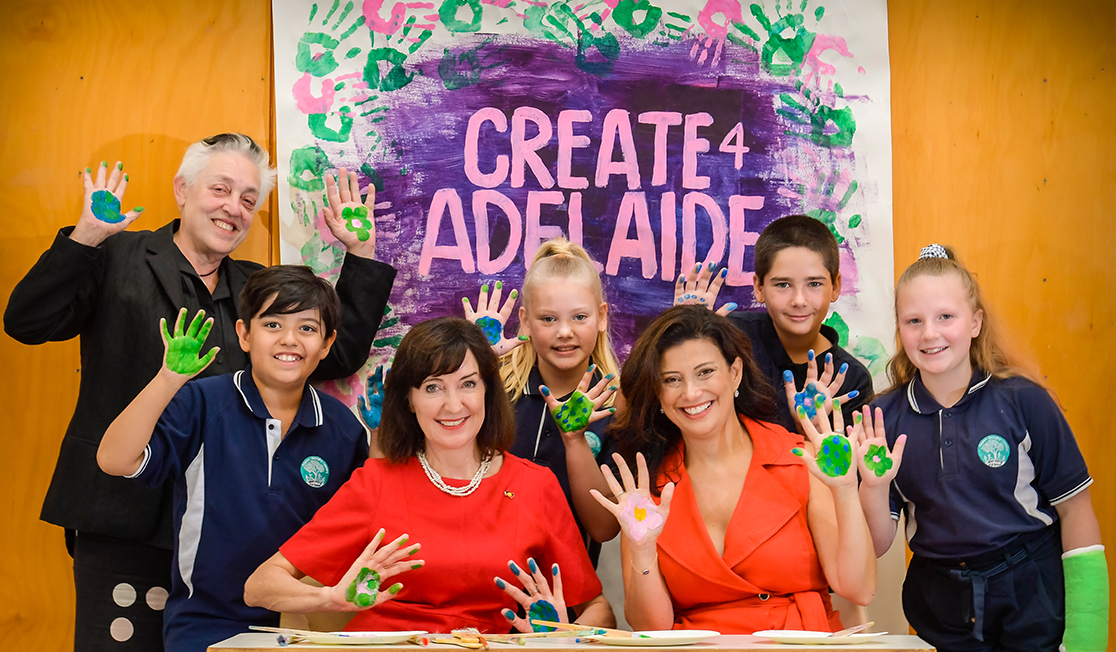 World-first Adelaide Festival environment project Create4Adelaide provides creative channels for young South Australians to tackle climate emergency
Deputy Premier Susan Close together with Minister for Arts Andrea Michaels MP on Saturday 11 Februar announced Create4Adelaide, an unprecedented cultural initiative of the 2023 Adelaide Festival which runs for a whole year and brings together climate, young people and the arts. The 2024 project starts right now, by calling on young South Australians to vote in an online survey and decide their top priorities for climate action. The results will form the basis for a yearlong project in schools with workshops run across 2023, and artwork created by primary, secondary and tertiary students to be presented in the 2024 Adelaide Festival. The large-scale project will encourage young people to develop their creative skills and engage with local climate change priorities both in person and online – resulting in digital and physical exhibitions.
Launching on Saturday, the Create4Adelaide survey invites young South Australians to vote on their top priorities for climate action. The final three priorities will be announced during the 2023 Festival in March. Teachers will have access to resources to support students and from Term 2, students individually, in small groups or classes, will design artwork for submission online. From Term 1, 2024, final artworks will be exhibited, digitally and physically, as part of the Festival program.
Deputy Premier Susan Close, whose portfolios include Innovation, Science and the Environment, explains that Create4Adelaide was kicked off with a young-people's workshop facilitated by the State's Commissioner for Children and Young People: "Apart from the more obvious concerns like bushfires, floods, drought and endangered species, they identified issues around wasteful consumerism and a widening communication gap between parents and children on these matters. Now let's do something about it. Once again, our Festival demonstrates that it's a cornerstone of the present and future fabric of our State."
Minister for Arts Andrea Michaels said: "Adelaide Festival is living up to its slogan 'Festival for the Future', by inviting school students to take the lead on climate change thinking. Create4Adelaide is harnessing the power of the arts to support students to be creative and express their ideas."
Adelaide Festival Artistic Director, Ruth Mackenzie CBE is particularly excited by this feature of her first Adelaide Festival. As artistic director of the 2024, 2025 and 2026 festivals, Mackenzie said this is the start of a new ambition to directly work with young people and schools to empower them to develop their creative skills and have a role in the festival as artists. 
Ruth Mackenzie said: "All generations can be artists and activists against global warming. Create4Adelaide is a one-of-kind project in South Australia, led by the art and values of South Australia's young people. The Adelaide Festival is immensely eager to see what game-changing ideas South Australia young people will come up with in the upcoming months. Our huge thanks to the Deputy Premier and the Minister for Arts coming together to empower young peoples' passion for art and the environment."
Create4Adelaide is supported by The Advertiser and Foodland. C4A will also work with creative partners in South Australia to assist the Adelaide Festival in implementing the long-ranging, multi-faceted project across the year including: Commissioner for Children & Young People, Art Gallery of South Australia, Children's University Adelaide; Botanic Gardens of South Australia, South Australian Living Artists festival, University of Adelaide – Environment Institute, Carclew Youth Arts, Patch Theatre, Country Arts SA, Slingsby Theatre Company, with more to be announced in the weeks ahead.
Slingsby's Artistic Director, Andy Packer, says addressing the global climate emergency is 'urgent': "Slingsby is proud to partner and collaborate with Adelaide Festival and young South Australians to harness their creative vision: arts action inspiring practical action, leading to a secure climate future."
Other News