November 29, 2022
AF welcomes Jennifer Koh in 2023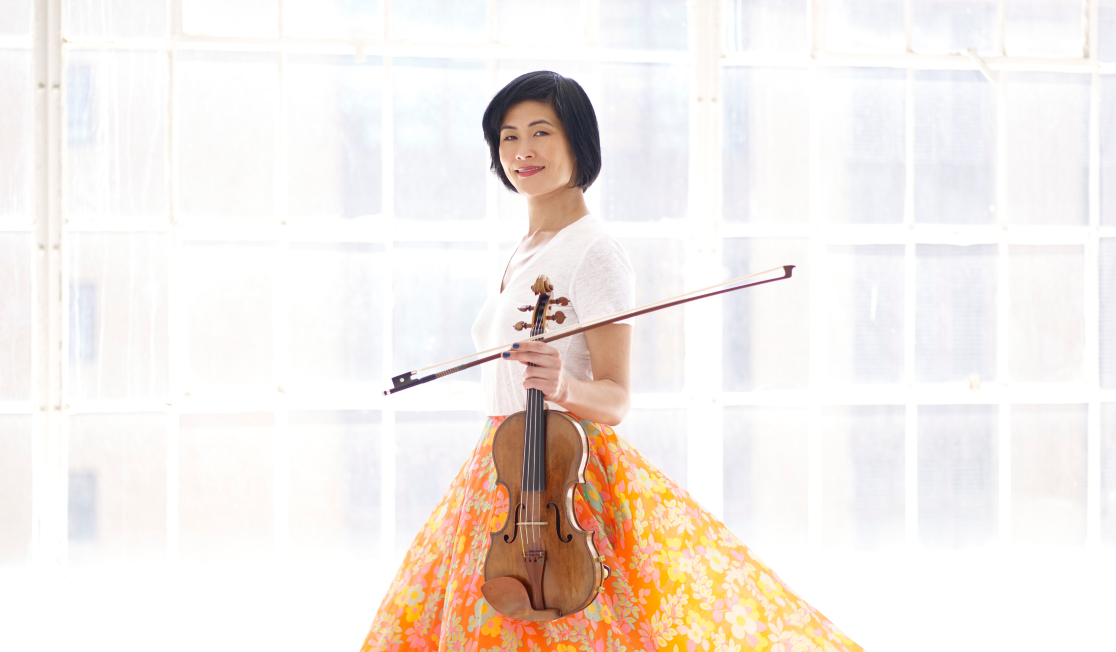 Adelaide Festival will welcome New York violin virtuso Jennifer Koh in 2023 with two spectacular performances - an intimate recital at UKARIA Cultural Centre and Fantastical Journeys, an enchanting performance with the Adelaide Symphony Orchestra and Finnish conductor Emilia Hoving. In this blog post, we delve into the rich experience of this prodigiously talented musician.
Recognised for intense, commanding performances, delivered with dazzling virtuosity and technical assurance, violinist Jennifer Koh is a forward-thinking artist dedicated to exploring a broad and eclectic repertoire, while promoting equity and inclusivity in classical music. She has expanded the contemporary violin repertoire through a wide range of commissioning projects and has premiered more than 100 works written especially for her. Her quest for the new and unusual, sense of endless curiosity, and ability to lead and inspire a host of multidisciplinary collaborators, truly set her apart.
The New American Concerto, a series created by Jennifer, is an ongoing commissioning project that explores the form of the violin concerto and its potential for artistic engagement with contemporary societal concerns through commissions from a diverse collective of composers. In February and March 2022, Jennifer premiered Missy Mazzoli's Violin Concerto, Procession, with the National Symphony Orchestra conducted by Gemma New at the Kennedy Center and with the Cincinnati Symphony Orchestra conducted by Louis Langrée at Music Hall. This concerto is the sixth to have been commissioned as part of The New American Concerto and will be presented at the 2023 Adelaide Festival as part of the Fantastical Journeys program with the ASO. 
Jennifer has created other critically acclaimed series and has collaborated with a wide range of artists. During the 2021-22 season, Jennifer unveiled two new collaborations - Everything Rises with bass-baritone Davóne Tines and Bach 6 Solo with director Robert Wilson and choreographer Lucinda Childs. Everything Rises is a response to the creators' own experiences as artists of color in a culture dominated by whiteness. During the years in which this collaboration was in development, there was a new surge of activism against racist violence targeting Black and Asian Americans. Inspired by the recent outpouring of support and solidarity across racial identities, this work proposes a united front through music. After collaborating in revival performances of Philip Glass's Einstein on the Beach nearly a decade earlier, Jennifer reunited with director Robert Wilson and choreographer Lucinda Childs for a new work, Bach 6 Solo, that brought to life Bach's sonatas and partitas with theatrical elements and dance. 
Jennifer regularly performs a broad range of concertos that reflects the breadth of her musical interests from traditional to contemporary with orchestral appearances and performances on 20th century works. Jennifer also continues to perform music from her Bridge to Beethoven project—launched in collaboration with her frequent recital partner Shai Wosner in 2015—which pairs Beethoven's violin sonatas with new and recent works inspired by them in order to explore the composer's impact and significance on a diverse group of musicians. 
Additional recent highlights include two new recordings on Cedille Records: Alone Together—winner of a Grammy Award in the Best Classical Instrumental Solo category—and the complete box set of her Bach & Beyond trilogy. She brings the same sense of adventure and brilliant musicianship to her recordings as she does to her live performances and has recorded more than a dozen albums.
Jennifer is active not only in the concert hall and recording studio, but also as a lecturer and teacher. She has been on faculty at the Mannes School of Music since 2018 and has held residencies at Brown, Cornell, Duke, and Tulane Universities, as well as at the Curtis Institute of Music, Oberlin Conservatory and College, and University of California, Santa Barbara. She was the keynote speaker for the Royal College of Music's 2020 "Orchestrating Isolation" conference and the League of American Orchestras' 2018 annual conference.
She is the Founder and Artistic Director of ARCO Collaborative, an artist-driven nonprofit that advocates for inclusivity in classical music. Established in 2014, ARCO Collaborative commissions, develops, and produces new musical works that highlight artists of color and women composers in collaborations that bring forth stories previously unheard in Western art forms. She is also a member of Composers Now's Distinguished Mentors Council and the board of the League of American Orchestras.
Born in Chicago of Korean parents, Jennifer began playing the violin by chance, choosing the instrument in a Suzuki-method program only because spaces for cello and piano had been filled. She made her debut with the Chicago Symphony Orchestra at age 11. She was Musical America's 2016 Instrumentalist of the Year and has also been recently recognized as a Virtuoso Award honoree by Concert Artists Guild in 2020 and "A Force of Nature" by the American Composers Orchestra in 2019. She was a top prize winner at Moscow's International Tchaikovsky Competition, winner of the Concert Artists Guild Competition, and a recipient of an Avery Fisher Career Grant. She has a Bachelor of Arts degree in English literature from Oberlin College and studied at the Curtis Institute, where she worked extensively with Jaime Laredo and Felix Galimir.
read more about fantastical journeys