February 24, 2022
Sustainable AF: What is Reforest?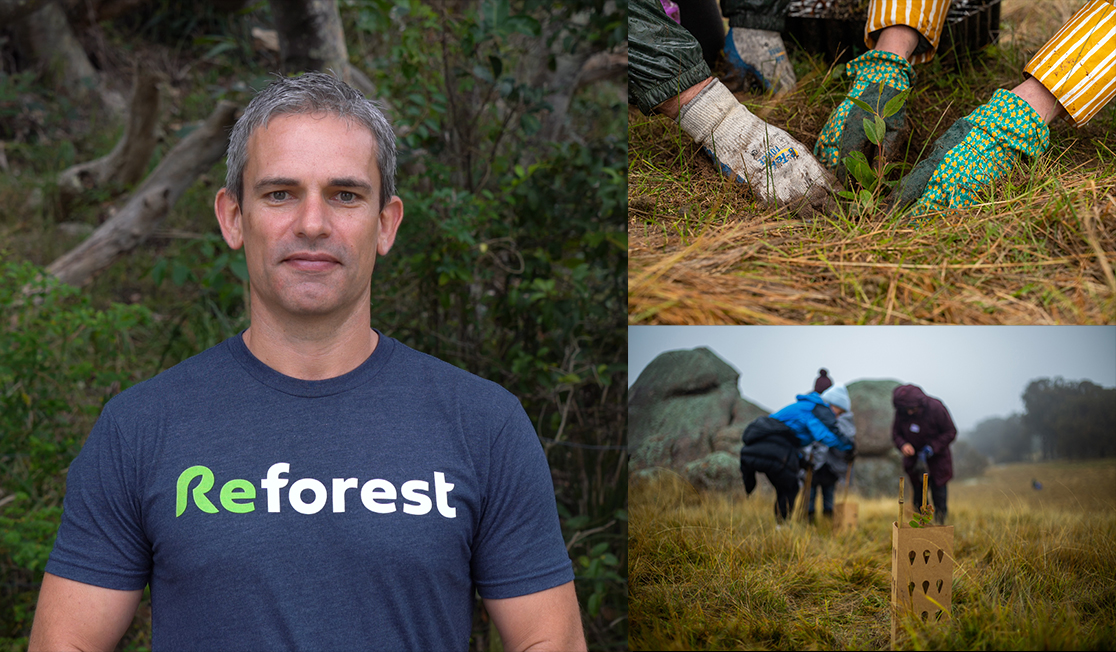 With the start of the Festival fast approaching, we wanted to take the time to introduce you to the Reforest app. You might notice their name or leafy logo on some of our signs or in pre-show emails in 2022. But what is Reforest? We spoke to founder Daniel Walsh to find out more about the Reforest app, how the initiative started and how the arts can engage with climate action.


How would you describe Reforest in one sentence?
Reforest is about working together to make every transaction positive for the planet.


What motivated you to start Reforest?
I have always loved being in nature and for a long time have been concerned about the damage we're doing to the planet. Like a lot of people, I felt really frustrated about my lack of options to make a meaningful difference. I knew that pretty much every purchase I made was part of the problem, and wanted a way to actually help make things change faster. 'Offsetting' never felt like a meaningful solution.
A combination of that frustration and becoming a father made me decide it was time to wrap up my career in healthcare and start Reforest in 2018. After lots of research and development, and a few COVID curveballs, we launched our first version of the Reforest app in 2021.


What is your vision for the future of Reforest?
Our vision for Reforest is to help bring about a regenerative economy, where restoration is built into every product and service so that the purchases you make actually improve the health of the planet, instead of damaging it.
Our aim is for Reforest to be the way every business (or event) and its customers can engage around restoring the planet together. We want to make that tangible and personalised by giving everyone their own virtual earth that reflects the real-world impact of their purchasing and restoration activity.
We also want to make sure the people and organisations who are part of this regenerative transition get to experience the benefits of their action first-hand. We plan to introduce a loyalty program for the planet, that rewards positive impact with a whole range of awesome perks and experiences.


How do you hope to see people engage with Reforest?
When you go into a store or attend an event and see the Reforest sign, you know that business is committed to this regenerative journey. When you scan their Reforest QR or tap the Reforest button, that business will plant enough trees in local Australian reforestation projects to remove the same amount of CO2 created by your transaction. You get those trees in your own personal forest in the app, so you know it's real action and not just greenwashing.
You can also buy your own trees to double the positive impact of that transaction. Together you can remove double the CO2 emitted by your purchase and help reverse climate change.
When you purchase from a business that does not offer Reforest, you can still log that purchase in your app, see its CO2 footprint, and buy your own trees to deal with those emissions. We send every one of those businesses a message to let them know their customers have Reforested and ask them to join you.
Reforest only launched recently so we don't have a lot of businesses signed up yet. But we hope that people will feel empowered by the app to log their flights, hotel stays, meals and other purchases knowing that we will be making noise on their behalf to get all those businesses to start taking responsibility for their climate impact.


How do you think the arts can assist with meaningful climate action?
I think many of us look to the arts for insight and inspiration. We come with a more open mind, ready to see and feel. So as a space, I think it has amazing potential to help us all feel inspired by our own potential to contribute to the transformation of humanity's relationship with the natural world.  

Find out more about Adelaide Festival's commitment to sustainability here.
Other News