The Summerhouse
Venues
Let's be Friends
Friends of the Adelaide Festival receive a host of great benefits including a 15% discount on applicable tickets, access to pre-sale and much more.
Read more
The Summerhouse content
Located on the fall of land between the Festival Theatre and the Dunstan Playhouse, The Summerhouse is our Festival home and hub for the next three years. It's a gorgeous lightweight pavilion of two perfect intersecting circles creating a raked auditorium and the fabulous Crescent Bar overlooking the river. It will host 17 days of upbeat club action and contemporary music concerts. There's also a free entry bar with spectacular views of the River, open Tuesdays-Sundays, 5pm till late.
-----------------------------------------------
Restart Investment to Sustain and Expand (RISE) Fund – an Australian Government initiative

-----------------------------------------------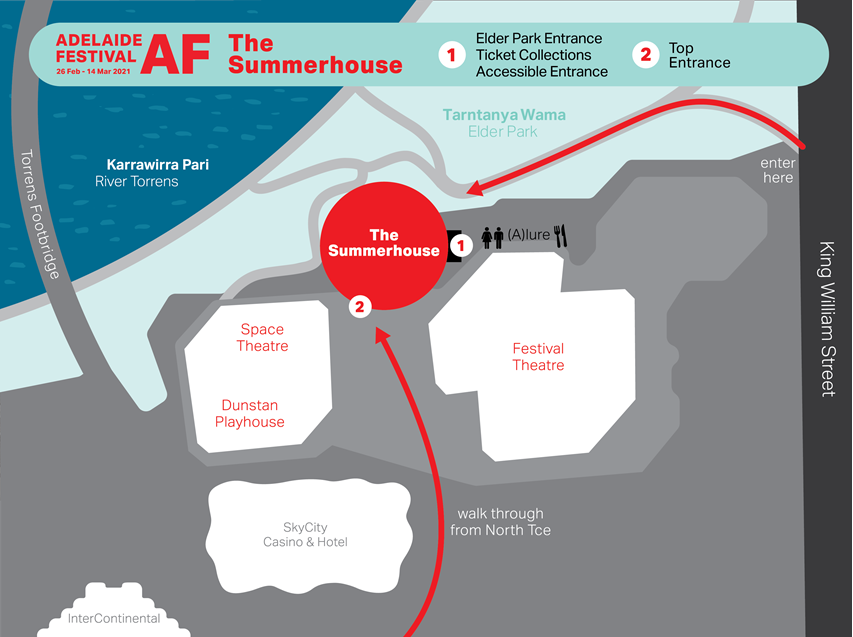 GETTING THERE
Where possible, please use public transport to access The Summerhouse. For tram, bus and train information services please visit Adelaide Metro
Will there be somewhere to lock my bike?
Yes, we love to encourage cycling to events. Bikes are not allowed in the venue, however bike parking will be situated on King William Road.
What public transport stops are the closest to the venue?
By bus Bus stop Z2 travelling from South into Adelaide CBD or stop A2 travelling into the Adelaide CBD from the North.
By train A short walk from the Adelaide Railway Station.
By tram  Closest stops are at Festival Plaza or Train Station/North Terrace for trams arriving from Glenelg or Adelaide Entertainment Centre.
Driving to the event?
Please note that Adelaide Festival Centre's car park is closed.
Visit UPark to find the closest car park to the venue. We recommend UPark Gawler Place or UPark Topham Mall.
ENTRANCES
There are two entrances to The Summerhouse.
The main and accessible entrance to the Crescent Bar and Main Hall is via Elder Park (King William Road). The Box Office is located at this entrance.
There is a secondary entrance to the Main Hall if you are coming from North Terrace or via the Walk of Fame. This will be open for performances and shows in the Main Hall only. No box office facilities are located here, ticket scanning only.
OPENING TIMES
The Crescent Bar is open to all from 5pm, Tuesdays-Sundays during the Festival.
For Breakfast with Papers, doors to the Main Hall will open at 7am, an hour prior to start time. 
For concerts, please check your ticket for your show's start time, and look out for our Before Your Show email. Doors for the Main Hall open an hour prior to show (except Vinyl Destination on Fri 5 Mar when doors will open 30mins prior to show).
The Main Hall is open for ticket-holders only. No general access. 
TICKETING
Box office and tickets
Tickets are available via BASS and can be purchased:
- online
- via phone on 131 246 (open Mon-Fri 9am-5pm)
If you have selected Print-at-home tickets, please ensure your ticket is pre-printed, with the barcode clearly visible, to expedite the entry process.
Please note BASS are the only authorised seller of tickets to The Summerhouse. If you purchase a ticket through other sites (including but not limited to Ticketmaster resale, Viagogo, eBay, Gumtree, Queen of Tickets), your ticket may be fraudulent and you will not be admitted entry into the event.
All ticket sales are final. Tickets are sold in accordance with BASS terms and conditions of sale. For further information please click here
CAN I BUY TICKETS ON THE DOOR?
Tickets may be available for purchase at the venue on the night of the performance, subject to availability. The Summerhouse Box Office will be located at the Main Elder Park Entrance. It will open an hour prior to show for ticketing enquiries.
Covid-19 QR Code Sign
You will need to undertake a COVID-safe Check-in on arrival at The Summerhouse. This may cause delays at peak times. Download the mySA GOV app before you arrive. If you don't have a smartphone, you can register manually upon arrival. Click here for more information on staying COVID-safe at Adelaide Festival.
Is there a cover charge?
There is no cover charge to enter the Crescent Bar. Breakfast with Papers are also free.
Patrons will require a valid ticket for entry to performances in the Main Hall.
RESTRICTED ENTRY TO SPECIFIC SHOWS
Please note the following shows are for audiences aged 18+:
Please note the following show is for audiences aged 15+:
Are all shows in the Main Hall seated?
Yes, all shows in the Main Hall are seated, including Breakfast with Papers and all the Evening Shows.
The ticketed Evening Shows have allocated seating. Please sit in the seat allocated on your ticket. Tickets for this event have been sold under COVID restrictions that require you to sit in alternate seats. 
CAN I DANCE?
If you want to dance, go for it! Just do so in front of your seat.
 DO I NEED TO WEAR A MASK?
You will not be required to wear a mask as events in The Summerhouse are outdoor and sold at 50% capacity. You are of course welcome to wear one if you prefer.
Is the venue cashless?
The Summerhouse is a cashless venue. This includes bars, box office and merchandise (where applicable).
Toilets
Toilets are located at the Elder Park entrance to The Summerhouse. 
Is it an accessible venue?
Accessible seating including wheelchair seating is available for pre-purchase through BASS. Please pre-book your accessible seating by calling 131 246 to discuss with an operator.
Is there an accessibility drop-off zone?
The Adelaide Festival Centre horse shoe drop off is located on King William Street.
Can I bring alcohol?
BYO alcohol is not permitted in accordance with venue licensing regulations.
Can I bring in my own food?
BYO food is not permitted in the Summerhouse.
Can I get food at The Summerhouse?
The Summerhouse will offer a selection of bar snacks for purchase at each bar plus (A)lure will provide breakfast and lunch offerings for Breakfast with Papers and Forum patrons. 
We recommend the following restaurants in the surrounding Riverbank precinct for more substantial food options before or after your visit to The Summerhouse. Please check their websites for operating hours and reservations:
(A)lure | Home Ground | Malt Shovel Taphouse | Sky City Adelaide Food & Drink 
Are pass-outs available?
No pass outs available.
Is there a cloak room?
There are no cloaking facilities onsite.
Weather policy
The Summerhouse is an outdoor venue.
Concerts play rain or shine. In case of extreme weather, refer to the specific event page on the Adelaide Festival website at 4pm on the day of the performance for final weather arrangements.
Changes to the Breakfast with Papers venue due to weather conditions will be posted on this page at 12pm on the day prior.
WHAT CAN I BRING IN?
In accordance with the venue's Conditions of Entry please note that the following items are prohibited:
Pets (only guide and assistance animals are permitted)
Chairs
Eskies
Alcohol, drinks in glass or aluminium cans
Bikes (not inside the venue but parking is available outside)
Professional standard still or video cameras, audio recording devices and tripods


Can I take photos?
Please take as many photos as you want with your phone, and don't forget to tag us when you post them. However, please note that DSLR cameras, video equipment, tripods and drones will not be admitted into The Summerhouse.
@adelaidefestival on Facebook/Instagram
@adelaidefest on Twitter
Hashtags #adlfest and #thesummerhouse