March 03, 2023
The 2023 Adelaide Festival has opened!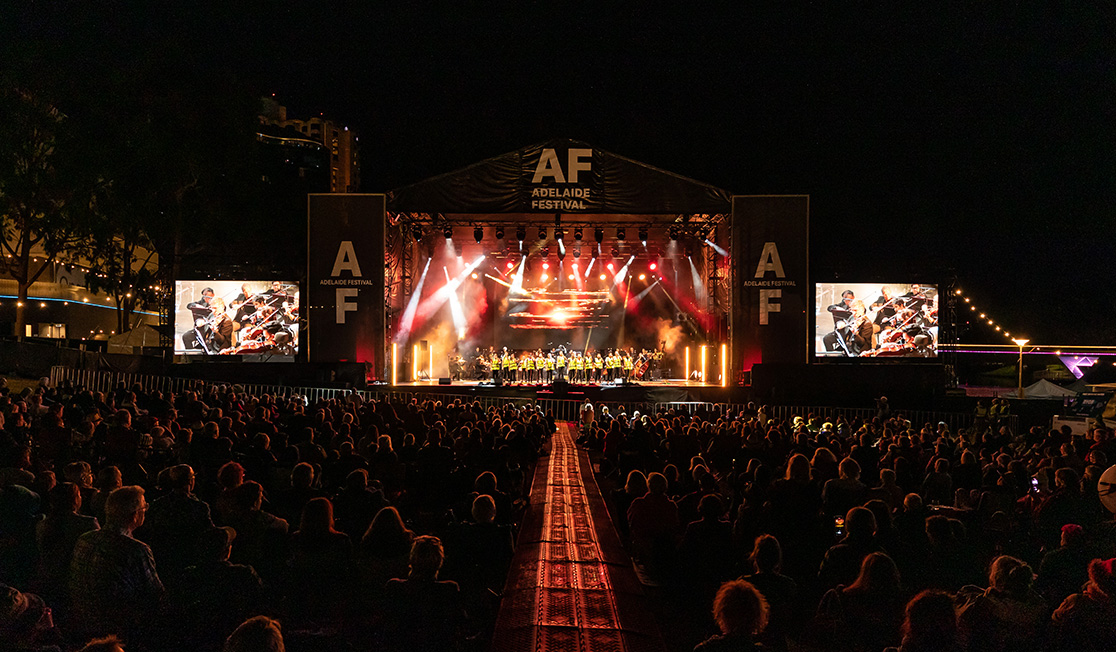 52 events, 11 world premieres, 8 Australian premieres, 17 Adelaide-exclusives
The 2023 Adelaide Festival is here! With a whole host of events, this is the first festival to return to pre-pandemic proportions, with 893 artists from 18 countries gathering in Adelaide over the next 17 days.
New Chief Executive Kath M Mainland and Artistic Director Ruth Mackenzie are proud to present AF23, initiated by former Artistic Directors Neil Armfield AO and Rachel Healy after six hugely successful festivals. The cutting-edge program celebrates diversity and innovation, and our city's world leading role as the place where global creative forces converge.  
Ruth Mackenzie, talking about what makes 2023 special, says: "Kath and I are incredibly excited to be here, at the beginning of Adelaide Festival 2023, working with some of our favourite international artists from South Australia and round the world - this Festival is full of inspiration, family fun and surprise. Local, interstate and international audiences have wholly embraced the Festival and we are thrilled with ticket sales which are now at 91% of our target – which is the biggest target to date – so we are on track for an incredible Festival."
Minister for Arts Andrea Michaels MP says: "Adelaide Festival continues to cement South Australia's reputation as a world-class festival city that attracts tourists from across the world. It is fantastic to hear that 25% of total tickets sold across the festival have been purchased by interstate and international audiences who are headed to South Australia. I encourage everyone to take part in this wonderful festival."
OPENING WEEKEND KEY EVENTS
It starts in Elder Park at 7.30 tonight with the spectacular FREE opening celebration Spinifex Gum, featuring the voices and harmonies of Cairns-based choir Marliya with the full orchestral forces of the Adelaide Symphony Orchestra. The concert opens with the world premiere of Adelaide's first Citizens Orchestra, comprising of over 100 community musicians of all ages. Bring picnic blankets and chairs and join with us under the stars as we open the 2023 Adelaide Festival.
Also opening on Friday is the world premiere and Adelaide exclusive, Andy Warhol & Photography: A Social Media, at the Art Gallery of South Australia, displaying photographs, experimental films, screen prints and paintings, including his famed portraits of Liza Minnelli, John Lennon and Yoko Ono.  
Two powerful theatre works are already playing; Slingsby's world premiere The River That Ran Uphill opened on Wednesday and is a first-hand account of 2015 Cyclone Pam which ravaged the South Pacific. On Thursday night the Belarus Free Theatre opened Dogs of Europe, the urgent, landmark work.
Renowned director Ivo van Hove's adaptation of bestselling novel A Little Life, tracking the deeply intertwined lives of four men over a period of 30 years; Sydney Theatre Company returning to the glorious Her Majesty's Theatre with Kip Williams' vivid adaptation of Gothic classic Robert Louis Stevenson's Strange Case of Dr Jekyll and Mr Hyde; and Windmill Theatre Company with Sandpit Design Studio's world premiere of Hans & Gret.  
Spain's Escolania de Montserrat who are the longest-standing boys' choir in the world, with an 800-year history, perform in Australia for the first time, exclusively to the Festival. Their performances at Adelaide Town Hall open tonight and run over Saturday and Sunday.
Adelaide Writers' Week 2023 opens Saturday 4 March with 160 writers from 10 countries. On Saturday, Kids' Day and Middle Grade and YA Readers' Day, provide a jam-packed program designed for children and young people including 40th anniversary celebrations for Mem Fox's Possum Magic.
Invigorating forum Breakfast with Papers with Tom Wright and a panel of informed guests begins Saturday 4 March and continues daily throughout the Festival.
New York Times-acclaimed, Melbourne-based all-woman trio Camp Cope perform their final show ever to open Adelaide Festival's latest contemporary music venue – Hindley St Music Hall.
At breathtaking Adelaide Hills venue UKARIA on the afternoon of Sunday 5 March, the much-anticipated world premiere of Ngapa William Cooper takes place: created by composer Nigel Westlake with vocalists Lior and Lou Bennett, performed with the Australian String Quartet, celebrating the life of revered Yorta Yorta elder, William Cooper, who in 1938 led the Australian Aborigines League protest against the Nazis' Kristallnacht atrocities.  
OPEN HOUSE
Over 2500 tickets have been distributed to people through two separate Open House programs generously supported by The Balnaves Foundation, whose support since 2017 has totalled over $500,000. Tix for Next to Nix and Pay What You Can are aimed at providing access to flagship Adelaide Festival productions for those in the community who otherwise could not afford to attend.
YOUTH & EDUCATION
Launched in February, Create4Adelaide invites young South Australians to vote on their top priorities for climate action. The initiative, which is supported by Foodland and The Advertiser, will announce the final three priorities at the end of March. From Term 1, 2024, final artworks will be exhibited, digitally and physically, and as part of the 2024 Adelaide Festival. Vote online here.
Thanks to the generosity of the Lang Foundation, special prices to eight shows, plus online resources for teachers (with links to ACARA, SACE and IB) will create opportunities for students to develop as active and interrogative theatregoers and cultural critics.
Primary, secondary and full-time tertiary students will again have access to exclusive discounts to a range of Adelaide Festival shows. Discounted tickets can be purchased online or at the box office, and collected by presenting student ID.
The Festival Connect program, thanks to the philanthropic support of James and Diana Ramsay Foundation and our Festival Connect donors, ensures 354 students from 11 disadvantaged schools will be provided with transport to and from the theatre, including three regional schools. 
Through SAPN (SA Power Network) funding, students from three Category 1-4 schools will experience a school performance of The River That Ran Uphill by Slingsby Theatre and one school will take part in a workshop with artists from Slingsby's Flying Squad.

Photo by Andrew Beveridge
Other News