March 17, 2023
The 2023 Adelaide Festival draws to a close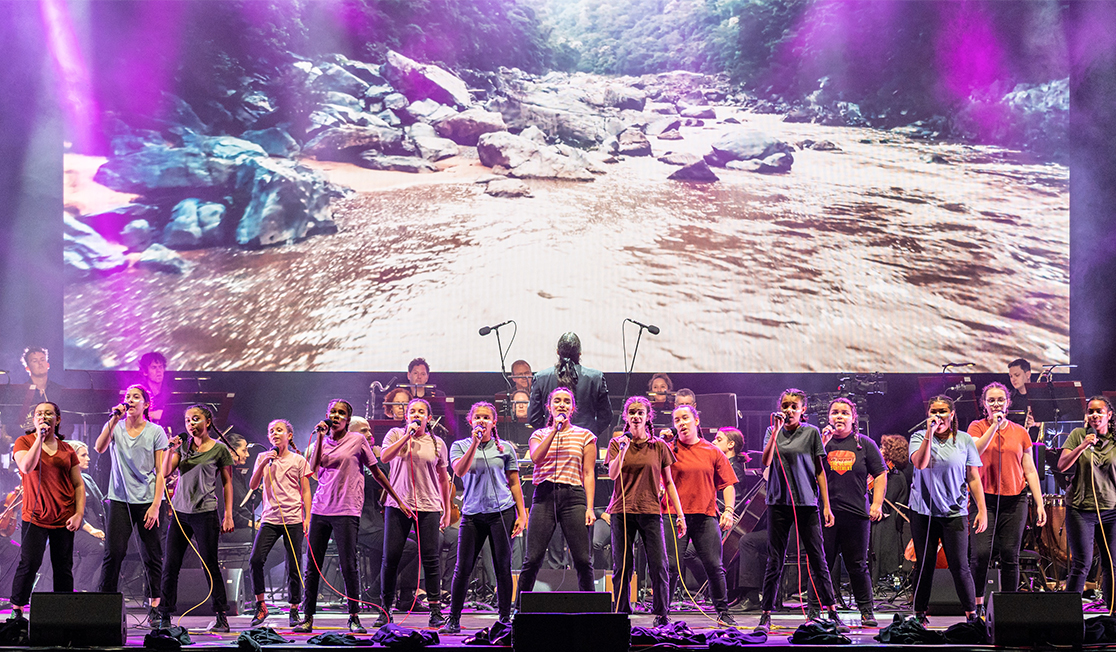 In 2023, Adelaide Festival cements itself as the nation's pre-eminent international arts festival.
The 2023 Adelaide Festival has been abundant in exclusive events, standing ovations and critical acclaim as it heads towards its final weekend. In the first full-strength international program in two years, Adelaide Festival has welcomed 893 artists from 18 countries, bringing with them global voices, brave new visions and contemporary theatre classics. With two days still to go, the Adelaide Festival has exceeded its box office target, reaching $5,886,972 (figure excludes WOMADelaide).
A total audience of 239,280 attended all Adelaide Festival events both ticketed and free (including WOMADelaide). The total number of tickets sold to Adelaide Festival performances was 83,312. Interstate audiences remained committed to their annual festival pilgrimage, snapping up 25% of ticket sales.
Adelaide Festival Chair Judy Potter said: "This has simply been one of the best Adelaide Festivals – we achieved an incredible box office, huge attendances, and the overwhelming response from audiences in South Australia and across the country has been phenomenal. The board congratulates the whole Adelaide Festival team, and looks forward to continuing in 2024 as Australia's pre-eminent arts festival."
Minister for Arts Andrea Michaels MP said: "Adelaide has once again been centre stage as one of the world's great festival cities. Every South Australian should be proud of what Adelaide Festival has achieved this year. The Festival plays a critical role in the cultural life of our state and continues to cement our reputation as the arts capital of Australia. From Christian Spuck's Messa da Requiem to stunning outdoor events such as Spinifex Gum, to Lorde lighting up the Entertainment Centre, it has been a wonderfully eclectic Festival program. Congratulations to the AF team!"
Artistic Director Ruth Mackenzie said: "A huge thank you from the whole Adelaide Festival team to our audiences, artists, sponsors and donors for your generous advice, enthusiasm, and ideas during my first Adelaide Festival. If you have any more comments and advice, please write to us at HaveYourSay which launches today. For anybody who has not yet voted for the climate change priorities which will shape Create4Adelaide, please vote at Create4Adelaide. We will be consulting with all ticket buyers and the communities who we aim to serve in the next few months to help us build on the legacy of the Festival for 2024-26. We look forward to working with you to build Adelaide Festival's world class reputation for excellence."
Director of Adelaide Writers' Week Louise Adler said: "Writers' Week 2023 is over and it was a genuine privilege to present my first as Director. What a pleasure it was to see bibliophiles turn out in their thousands, starting each morning at 8am for Breakfast with Papers hosted by the inimitable Tom Wright, through to a twilight version of Insiders, and an Under the Covers session hosted by the conversationalists without parallel - Richard Fidler and Sarah Kanowski. The Premier of South Australia reminded us that politicians shouldn't meddle in cultural matters, Sir David Hare recalled for us the impact of Covid, Nobel Laureate Svetlana Alexievich took us into the soul of Homo Sovieticus, Mohammed El-Kurd shared his poetry and his pain, and John Banville took a moment to tell us that 'art is a serious business, but solemnity is the death of art'. We were collectively informed, provoked and entertained. Writers inspired us and we bought their books. May the sun shine on Adelaide Writers' Week in 2024."


Sold out shows
- Messa da Requiem (Switzerland and Australia)
- A Little Life (The Netherlands)
- Ngapa William Cooper (Australia)
- The Sheep Song (Belgium)
- Hans & Gret (South Australia)
- Hear My Eyes: Pan's Labyrinth x Sleep D (Australia)
- Cédric Tiberghien (France)
Highest selling shows:
- Messa da Requiem (Switzerland and Australia)
- Strange Case of Dr Jekyll and My Hyde (Australia)
- Lorde with MUNA and Stellie (New Zealand)
- A Little Life (The Netherlands)
- Air Play (USA)

free events
Free events were again a staple of the Adelaide Festival program and were well attended with more than 45,968 visitors taking advantage of concerts, exhibitions and installations. Free events at Adelaide Festival included:
Adelaide Writers' Week
New Director Louise Adler well and truly put Adelaide Writers' Week on the map from 4 to 9 March. Themed Truth Be Told, the 38th writers' festival drew a crowd of 17,000 from across South Australia and interstate to the Pioneer Women's Memorial Garden. Over six days, 158 writers and authors gathered from around the world for 130 sessions, both live and virtual. Writers' Week was live streamed into 92 libraries, schools, retirement villages and nursing homes. The highest selling book for the week was We Don't Know Ourselves – A Personal History of Ireland Since 1958 by Fintan O'Toole, closely followed by Trespasses by Louise Kennedy, and Colditz: Prisoners of the Castle by Ben Macintyre.
The opening concert Spinifex Gum, which featured the vocals of Marliya, the music of Felix Reibl and Ollie McGill, singer-songwriter Emma Donovan and the Adelaide Symphony Orchestra (ASO). The event opened with the debut performance of the Citizens' Orchestra, part of the Floods of Fire project initiated by the ASO under Artistic Director Airan Berg. Over 4,000 people attended the concert in Elder Park.
In the Adelaide Hills, Lost Dogs' Disco by Australian collective ENESS enchanted 10,859 humans and 643 dogs, celebrating the role of dogs in our lives. The installation lit up Keith Stephenson Park in Mount Barker over six days.
Unvanished, an artistic collaboration between Barkindji artist Kent Morris, Studio John Fish and sound designer James Henry, took up residence on the Festival Plaza. Over two weeks 2,675 people visited and interacted with the popular installation.
A river that flows both ways, an exhibition including selected works from rivus, the 23rd Biennale of Sydney, is being held at Adelaide Contemporary Experimental (ACE) until tomorrow (Saturday 18 March). Curated by Jose Roca, it features the work of Imhathai Suwattthanaslip, Aluaiy Kaumakun, Yoko Mohri and Sopolemalama Filipe Tohi.
Two exhibitions from Samstag Museum of Art, James Newitt's Haven and Emily Wardill's Night For Day, have so far attracted over 2,500 people to the Adelaide Railway Station. The exhibitions remain open until Sunday 19 March.
Biotic Commune by textile artist Kasia Tons explores the symbiotic relationship between plants and humans. More than 5,829 people have attended the exhibition at the Santos Museum of Economic Botany, which is open until 30 July.
Breakfast with Papers at The Star: Kitchen and Bar attracted an audience of 2,878 people.

Final Weekend
The 2023 Adelaide Festival still has several incredible shows and events leading into the final weekend:
- Air Play, a spectacle for young audiences and families by US-based Acrobuffos, will play four shows at the Festival Theatre.
- Maureen: Harbinger of Death, co-created by Jonny Hawkins and Nell Ranney, has three shows remaining in the Space Theatre.
- Crystal Pite and Jonathon Young's dance-theatre work Revisor, presented by Canada's Kidd Pivot, makes its Australian premiere at Her Majesty's Theatre tonight where it plays three shows.
- US-based violinist Jennifer Koh joins the ASO at the Adelaide Town Hall for Fantastical Journeys on Saturday and then plays a sold-out solo show at UKARIA Cultural Centre on Sunday.
- Australian Dance Theatre has three performances of Tracker remaining at the Odeon Theatre.
- So Much Myself: Piano Portraits with Australia's renowned pianist Sonya Lifschitz and composer Robert Davidson plays one show only in its world premiere season at the Adelaide Town Hall tonight (Friday 17 March).
- Allday with JK-47, BARKAA and Kobie Dee play the final gig at Hindley Street Music Hall tonight, rounding out the contemporary music program.
- SOLD OUT! Belgian theatre collective FC Bergman's The Sheep Song plays four shows at the Dunstan Playhouse.

youth and education
Supported by the Lang Foundation and individual philanthropists, the Adelaide Festival schools program is designed to introduce children and young people to the arts. A total of 5,114 tickets were sold to 75 different schools across Adelaide as well as three interstate schools. The most popular shows were Hans & Gret, Strange Case of Dr Jekyll and Mr Hyde and Air Play.
Create4Adelaide (C4A), a cultural initiative of the 2023 Adelaide Festival, was launched at the beginning of the Festival. This new project, supported by Foodland and The Advertiser, gives young people the opportunity to voice their concerns about climate change in South Australia and propose solutions through their own artworks as part of a major, year-long environmental project for next year's Festival. Artwork can take any form – from drawing, painting or photography, to written, musical or filmed pieces. C4A will work with creative partners including the Commissioner for Children & Young People, AGSA, Children's University Adelaide, Botanic Gardens of South Australia, SALA Festival, University of Adelaide – Environment Institute, Carclew Youth Arts, Patch Theatre, Country Arts SA and Slingsby.
Thanks to the Tix For Next To Nix program, 11 Category 1-4 schools accessed 324 tickets to shows that were subsidised by The Balnaves Foundation. Through SA Power Network funding, 150 students from three schools experienced school performances of The River That Ran Uphill by Slingsby, as well as workshops with artists from Slingsby's Flying Squad. The Festival Connect program, thanks to the philanthropic support of James and Diana Ramsay Foundation and our Festival Connect donors, ensured students from 11 Category 1-4 schools were provided with transport to and from the theatre, including three regional schools.

open house​
Through the generosity of The Balnaves Foundation, over 2,800 tickets were made available through the Pay What You Can and Tix For Next To Nix programs which gives those at an economic disadvantage the opportunity to attend Adelaide Festival flagship productions.

The 2023 Adelaide Festival ran from Friday 3 March to Sunday 19 March.
Adelaide Writers' Week ran for from Saturday 4 March to Thursday 9 March.

Photo: Spinifex Gum and the Adelaide Symphony Orchestra at the AF23 opening night event in Elder Park. Photography by Andrew Beveridge.


Other News